Wild Mind: A Field Guide to the Human Psyche
Join us for a  Wild Mind program, May 31-June 4 0r Aug 19-23, 2015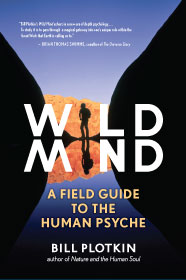 About the Book
Our human psyches possess astonishing resources that wait within us, but we might not even know they exist until we discover how to access them and cultivate their powers, their untapped potentials and depths. Wild Mind identifies these resources — which Bill Plotkin calls the four facets of the Self, or the four dimensions of our innate human wholeness — and also the four sets of fragmented or wounded subpersonalities that form during childhood. Rather than proposing ways to eliminate our subpersonalities (which is not possible) or to beat them into submission, Plotkin describes how to cultivate the four facets of the Self and discover the gifts of our subpersonalities. The key to reclaiming our original wholeness is not merely to suppress psychological symptoms, recover from addictions and trauma, or manage stress but rather to fully embody our multifaceted wild minds, commit ourselves to the largest, soul-infused story we're capable of living, and serve the greater Earth community.
Visit www.wildmindbook.com
Book Trailer
Praise for Wild Mind
Bill Plotkin's Wild Mind ushers in a new era of depth psychology. For all of the penetrating insights flowing from Sigmund Freud and his associates, the field's origin was imprisoned in the worldview that regarded our universe as dead. It was inevitable that psychological work would be confined to conversations between humans, in offices, inside buildings. Plotkin's work shatters that limited conception for he lives in the creative universe as articulated by quantum physics, indigenous traditions, and evolutionary cosmology. Most helpful of all, Plotkin shares his powerful processes for entering deep conversations with rivers and owls and stone. To study Wild Mind is to pass through a magical gateway into one's unique role within the Great Work that Earth is calling us to.
~ Brian Thomas Swimme, professor of evolutionary cosmology, California Institute of Integral Studies, and co-author (with Thomas Berry) of The Universe Story
In Wild Mind, Bill Plotkin maps the relationship between the human psyche and the rest of nature — a task akin to painting a detailed portrait of a tree in a stiff wind. As in all of his books, Plotkin writes with grace, eloquence and humor. And through this brave effort to capture the wind, he makes an enormous contribution to our species.
~ Richard Louv, author of The Nature Principle and Last Child in the Woods
Here, in Wild Mind, Bill Plotkin guides us into a landscape where we recognize the extraordinary gifts of our own true nature. Through his nature-based map we can not only find our powers of leadership, joy, sensuality and renewal, but also the dragons of self-deception whose energies we can liberate for the healing of our world.
~ Joanna Macy, author of Active Hope: How to Face the Mess We're in Without Going Crazy
Living as we do in both an external environment and an internal environment, Wild Mind is a summons to an evolved eco-consciousness. Both natural settings have been subordinated to narcissistic enlargement by a complex-driven ego, and the price we are paying is personal, cultural, and environmental pathology. Wild Mind provides a compelling agenda for re-integration of these sundered worlds in service to wholeness.
~ James Hollis, PhD, author of What Matters Most: Living a More Considered Life
I have both taught and worked with Bill Plotkin, and believe that Wild Mind is the most mature synthesis of his excellent and much needed vision. Be guided here by a master of listening to both nature and soul!
~ Richard Rohr, O.F.M., author of Falling Upward: A Spirituality for the Two Halves of Life
Thomas Berry calls us to "reinvent the human."  Bill Plotkin has been doing his part for decades principally through leading people into their deeper selves via vision quests in the wilderness.  In this book he continues his pioneering efforts in a brave attempt to reinvent psychology with useful practices and new languaging that honors the psyche/cosmos relationship.
~ Matthew Fox, author of Original Blessing, The Pope's War, Hildegard of Bingen:  A Saint for Our Times
Wild Mind offers wise and loving medicine for our selves and our world at a time when reinventing how we live on Earth and with each other is more crucial than ever. This brilliant and lyrical book provides an alternative to the outmoded mindset that has had us focused on what's wounded or missing in ourselves rather than appreciating our magnificence and the unique gifts we each carry for the world. With this delightful, encouraging, and inspiring read, Bill Plotkin delivers an engaging and tender adventure of reclaiming, healing, and celebration.
 ~ Nina Simons, Co-CEO and Co-founder, Bioneers
Once again, Bill Plotkin provides an invaluable Field Guide to reclaim and embody our original wholeness and our inherent kinship with Nature, all species, and habitats.  Wild Mind, not only revitalizes, but re-enchants us in our endangered world!
 ~ Angeles Arrien, cultural anthropologist and author of The Four-Fold Way