The Way of Council and the Art of Mirroring – April 2017
Colorado
April 24, 2017 - April 28, 2017
Cost: $875.00 - $1200.00
Venue:

Sage Canyon


Guides: Gene Dilworth, M.A., Rebecca Wildbear, M.S.
Limit: 18
Requires
application
backpacking
Accommodations
camping
prerequisite
retreat center
Description:
THE WAY OF COUNCIL empowers us to gather together, speak from our hearts, and witness each other fully, not only by making it safe enough to do so but also by generating a group field that enables us to reveal our hidden depths to ourselves as well as to others. Through council, we cultivate our capacities for empathy, compassion, and sensitivity to where we are and how we are with each other and in the world.
THE ART OF MIRRORING: There is an art to hearing a story as well as telling one. Mirroring is a collection of skills employed in receiving, embracing, and honoring each others' stories. In mirroring, we neither project nor interpret but rather celebrate the magic of the story and the gifts of the One Who Bears the Tale. We help the storyteller glean-harvest-reap the jewels, the dark ones as well as those that sparkle.
The Way of Council and the Art of Mirroring are invaluable practices on the descent to soul. Although much of the descent is solitary, gathering with others in council can make all the difference in finding our way. In the mirror of another, our eyes are opened to aspects of both our gifts and our challenges that we might not have seen otherwise. We are encouraged and inspired to drop into realms that are scary, edgy, darkly alluring, mysterious, and ecstatic — dangerous, yes, but keenly aligned with our deepest longings. During council and through mirroring, we serve as consorts for each other's mysteries. We are supported to track threads of our soul story that, during the intensive or later, can be amplified as we wander on the land or surrender ourselves to movement or dance, or expressed through poetry or other arts. Council and mirroring can crack us open to irrefutable truths about our core nature and our connection to the Others, the larger field in which our councils occur. During council, we track synchronies with the other-than-human world that surrounds us (animal appearances, for example, or weather shifts, or the quality of the light). And we unearth common archetypal themes that appear within our own human circle. All this helps us better perceive the threads of our individual soul stories and our unique ways of belonging to the world.
Through the Art of Mirroring, we learn to listen as if our lives depend on it. (They do.) We hone our ability to detect the magnificence and mythic qualities in our own and others' stories. We listen for unique soul threads that might appear in a repeated theme, a tone, aspects of sacred woundings, dreams, unique imagery, archetypal dimensions of the journey, or tracks of shadow material.
A circle of fellow pilgrims, witnessing and mirroring us, helps us understand where we are on the journey to soul and supports us to take our next steps — from our initial preparation for the descent, to the leaving of "home" and the courageous abandonment of our old story, to our hazardous and ecstatic encounters with numinous mysteries, to the gathering up of mysterious treasures, and, finally, the return to our communities with a vision to perform in service to the larger web of life.
This is an all camping program. Participants are responsible for their own lunches and snacks and will be asked to participate in planning, purchasing, and cooking group meals.
Guides
Gene Dilworth, M.A.
Gene is dedicated to the project of rewilding the human spirit as an essential dimension of being fully alive in these times. By nurturing meaningful relationship with the more-than-human world and facilitating deep inquiry into the mystery of one's true nature, he supports individuals to discover, re-member and live from the center of their soul-rooted sense of belonging to the world.
With degrees in ecology and ecopsychology, Gene has been guiding groups and individuals in transformative nature-based experiences since 1986. He has taught undergraduate and graduate level courses in environmental studies and ecopsychology, has been a university academic administrator and has served in a number of administrative and leadership roles in educational and environmental organizations.
Gene lives with his daughter in Boulder, Colorado. He nurtures his own sense of wildness and wonder by exploring the Rocky Mountain foothills and courts his muse through music and poetry
Rebecca Wildbear, M.S.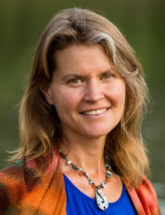 Rebecca is a river and soul guide, compassionately helping people tune in to the mysteries that live within the wild Earth community, Dreamtime, and their own wild Nature. She gently ushers people to the underground river of their greater story, so they may surrender to their soul's deepest longing and embrace their sacred gifts, live a life of creative service, and rediscover their deep belonging to the Earth community. A therapist and wilderness guide since 1997, Rebecca utilizes her training and experience with yoga, meditation, Hakomi, and somatic psychotherapy to support individuals in discovering and manifesting their soul gifts. She also leads Animas programs and is on the faculty of Nosara Yoga Institute in Costa Rica. Rebecca is the creator of Wild Yoga™, a sacred way of breathing and moving, aligned with Earth and Soul.
Venue
Sage Canyon
A beautiful desert location situated close to Canyons of the Ancients National Monument in southwest Colorado.