Soulcraft Journey: Into a Mountain Wilderness – July 2017
Washington
July 16, 2017 - July 23, 2017
Cost: $1025.00 - $1450.00
Venue:

Okanogan National Forest


Guides: Nate Bacon, M.A., Laura Gunion
Limit: 12
Requires
application
backpacking
Accommodations
camping
prerequisite
retreat center
Description:
An Underworld-Focused Immersion – Application Required
The Soulcraft Journey: Into a Mountain Wilderness is an 8-day backpacking intensive in the mountains of north-central Washington in a watershed where the North Cascades, the Okanogan Highlands, and the Columbia Basin ecosystems converge like great interlaced fingers of land.
 We will live together and travel together through the upper reaches of the tree line and the open expanse of alpine tundra, with wildflowers at our feet, wind on our faces, and the shadowy presence of lynx, black bear, and moose shaping our own animal-body movements through this wild place. We will be accompanied always, both night and day, by the great expanse of Earth's mountainous body conjoined with the round depth of sky, and hope in turn to feel ourselves enfolded into the love affairs of stone and star, water and lichen, birdsong and thunderstorm.
We will seek to open ourselves as individuals to the particular ways this mountain world longs to shape each of us; the particular styles of being it elicits in us through our days; the songs, dances, poems, prayers, feelings, and images it evokes; the unique ways it dreams each of us deeper into some wild possibility we could never expect to fully comprehend. Our intention will be simply this: to follow the mountains. You will follow the mountains in your pilgrimage closer and closer to the very heart of your own unique place of belonging in the world, that place where a great mystery softly pulses at the core of your life.
We will find our way into and through this mysterious terrain with an entire bundle of Soulcraft practices tucked under our arms, but our senses will always be tuned toward the world, our attention offered outwardly, such that you may come to experience your true place in the world not as a center of isolated interior space, but as a function of your relationship with the Others – both human and non-human – that comprise the entire universe. In this way you will move toward the stone-cliff edges from which you might, if you are ripe like a pregnant fruit, fall into the mysterious depths of the world and encounter your soul ushering you in.
Note: Participants can expect to dive into a number of Soulcraft practices such as soulcentric dreamwork, accessing the deep imagination, council, romancing the world, self-designed ceremony, soul poetry, and trance rhythm and movement, but we will be finding our way as we go. The general approach for this intensive is to follow what is present for individuals and the larger group in relationship with this place and all that it evokes, which can not be predicted. In this way the Soulcraft Journey is perhaps the most open-ended, spontaneously oriented intensive that Animas offers.
Please note also that this is a backpacking intensive. We will meet together in town, drive to a campground at our trailhead where we will spend our first night, and then camp in the backcountry for the remaining six nights of the intensive, spread out between three backcountry camps. While we will only backpack two to three miles at most on our travel days, we will be at roughly 7,500 feet in elevation, including some moderate inclines and declines, so participants should come prepared for such a journey. In addition to their personal gear and food, participants will also share in carrying group gear and food. With guides providing the stove and pots and other cooking gear, you'll provide your own lunches, snacks, teas and participants will form meal teams to plan/provide breakfast and dinner.
Guides
Nate Bacon, M.A.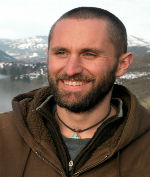 Nate Bacon lives with his family on the east flank of the North Cascades, where he delights in his great fortune of being able to raise his children on the banks of a cold mountain river. A cultural ecologist, wilderness guide, and writer, his work concerns the intertwined nature of perception, language, worldview, and identity. He is dedicated to undermining the psycho-cultural structures of our modern ways of being while remembering our inherent belonging in the world and relationship with all of life. His current writing project explores the mythopoetic relationship between evolution, human consciousness, and the ecological crises of our current moment. Nate is an avid fermenter, kitchen gardener, naturalist, wildlife tracker, and traditional bow hunter with a Master's degree in Philosophy and Religion. He serves in many roles at Animas, including as guide, trainer, and board member.
Laura Gunion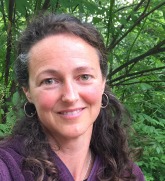 Laura believes that humans have tremendous potential, much of it hidden and unconscious. As a mentor, wilderness guide and naturalist, it is both her privilege and responsibility to support others as they encounter their true nature.  She feels it's essential that we grow, not only for ourselves, but also to create cultures that will benefit future generations. She insists on bringing the soulful and sacred into daily living. Her curiosity, acute listening, and precise questioning support people in living boldly and courageously. Laura has been a mentor at Wilderness Awareness School since 2002, and continues to love instructing at their 9-month adult program, Anake Outdoor School. She lives in the woods above Duvall , WA, where she shares land with Bewick's Wren, black bear, and many other wild ones.
Venue
Okanogan National Forest
The Okanogan National Forest is located in northern Washington and is comprised of 1,499,870 acres. It touches Canada on the north, North Cascades National Park on the west and Colville National Forest on the east.
Between the gentle profile of the ancient mountains of eastern Washington and the rugged towering peaks of the newer Cascade mountains near the Pacific Ocean, are the Okanogan and Methow and Twisp River valleys. The Okanogan National Forest (NF), lining these valleys, offers lots of recreation, particularly trails and back country opportunities, with nearby developed campgrounds for extended stays. One feature of the Okanogan NF, perhaps known best to the locals, is the amount of sun it receives. While winters are bright, with crisp temperatures, summer is also sunny but dry and can be very warm. Such weather is a pleasant reward for visitors from the cool, foggy Pacific coast.