Courting the Muse – October 2017
Utah
October 9, 2017 - October 14, 2017
Cost: $735.00 - $1045.00
Venue:

Capitol Reef National Park


Guides: Doug Van Houten, Rebecca Wildbear, M.S.
Limit: 12
Requires
application
backpacking
Accommodations
camping
prerequisite
retreat center
Description:
God picks up the reed-flute world and blows.
Each note is a need coming through one of us, a passion, a longing pain.
Remember the lips where the wind breath originated, and let your note be clear.
Don't try to end it.
Be your note.
I'll show you when it's enough.
Go up on the roof at night, in this city of the soul.
Let everyone climb on their roofs and sing their notes!
Sing loud!"-Rumi
Each person has something to give to the world — there is some unique song, poem, genius, or other soul-infused form of expression wanting to be birthed through you. The natural world mates and creates through an alluring love dance, and it wants you to feel, remember, and express your part. Perhaps you have sensed something stalking you…..Mystery, Earth, your soul? As you open your heart and imagination to those enigmatic and mysterious fascinations that can both devastate and plunge you into magic and rapture, you become vulnerable to the great changes calling from your soul and our evolving world. From this romance, something new emerges and our deepest creativity awakens.
Our muse is the wellspring of our creativity, inspiration and deep imagination ushering us toward what's most worth doing in life. It is our own wildly unique way of looking at things. Our muse partners with our soul and inspires how our soul's desires and gifts manifest in the world.
Immersed in a truly wild landscape you'll practice courting your Inner Beloved and Muse through ceremony, conversations and wanders in nature, deep imagery journeys, council, soul-oriented dreamwork, wild yoga/body movement, trance/drumming and dancing, and soulful artistic expression (drawing, music, dance, writing). We'll engage in soulcraft tasks designed to feed the relationship with Earth, Muse, and Mystery. We'll practice partnering with the imagination of Earth itself, and it's extraordinary diversity and fecundity. She imagines us into being, and then our own Muse and deep imagination are invited to support a collective unfolding.
Remember the beauty and horror of past attractions and love relationships, the delicious and ugly shadows evoked. Honor past outer beloveds and reclaim the resources and gifts at the heart of these shadow projections, for the purpose of having these tools to do your soul's work in the world.
Explore the relationship between ego and soul. How does soul inspire ego to mature and serve it's greatest purpose? How does relationship with the Inner Beloved help us more fully embody love? How does relationship with the Inner Muse help us more fully embody creativity and soul-infused artistry?
Participate in the conversation between Mystery and Manifestation, Ego and Soul, and Self and World.  Learn practical approaches for cultivating an ongoing relationship with Muse while birthing your own gifts and expression into the world.  Experience how relationship and deeper listening to one's Muse creates inspired, unique, artistic expression and service to the world.
Southern Utah's Red Rock Country – Capitol Reef National Park
This program includes 5 nights car-camping in the very heart of Southern Utah's Red Rock Country. At this remote location, east of Capitol Reef National Park, we'll camp on a high plateau surrounded by desert. We will gather at the campsite on the 9th, actual program to begin the morning of the 10th. Participants will make teams for providing and planning meals.
We'll watch the sun rise each morning over the sacred Henry Mountains. And you'll be invited to wander west, upstream into the Canyon which was once populated by native cultures.
Sculpted with a unique mixture of red rock, and rounded domes of cream-colored Navajo Sandstone, these formations offer their own mysterious artistry. Perhaps they'll invite you to discover yours….?
Alcoves, slot canyons, or narrow side canyons will beckon you inward and onward. Cottonwood trees will be turning brilliant yellows along the creek, as it's current sings in rhythm with rock. Juniper and Pinion trees make their own song amidst the vast, surrounding desert silence.
What expression is waiting to come forth from you amidst the bodies and beings that "are unutterably themselves"?
For all camping programs: Each participant is responsible for their own lunches, snacks, and tea. Breakfasts & dinners are group meals; participants will be divided into meal teams and each team will be responsible for purchasing and preparing a certain number of group meals.
Participants are also responsible for their own transportation to and from the program location.
Guides
Doug Van Houten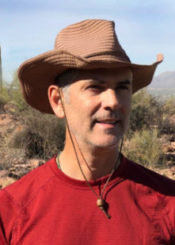 Doug Van Houten has an eye for the heartbreakingly beautiful and a wild heart that sings in the dark night of his own soul. He is beekeeper, artist, brave explorer of the "darker than darkness", student/facilitator of the Great Work, and Animas trained vision fast guide. In his own backyard of the rolling Kentucky hills, Doug organizes retreats/conferences/workshops/drumming circles, and festivals in celebration of Earth spirit. Lit by the luminescence of his own dreams, wanderings and visions, his firsthand enraptured experience is a deep exploration of his own dark wounding. Doug has taken a vow to soul, (that would kill him to break), to live consciously with grace and to stay awake. Here, he dances with shadow, hones his artistry, and answers the call to support the soulful opening of others.
Rebecca Wildbear, M.S.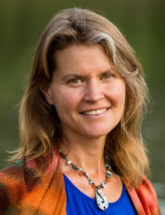 Rebecca is a river and soul guide, compassionately helping people tune in to the mysteries that live within the wild Earth community, Dreamtime, and their own wild Nature. She gently ushers people to the underground river of their greater story, so they may surrender to their soul's deepest longing and embrace their sacred gifts, live a life of creative service, and rediscover their deep belonging to the Earth community. A therapist and wilderness guide since 1997, Rebecca utilizes her training and experience with yoga, meditation, Hakomi, and somatic psychotherapy to support individuals in discovering and manifesting their soul gifts. She also leads Animas programs and is on the faculty of Nosara Yoga Institute in Costa Rica. Rebecca is the creator of Wild Yoga™, a sacred way of breathing and moving, aligned with Earth and Soul.
Venue
Capitol Reef National Park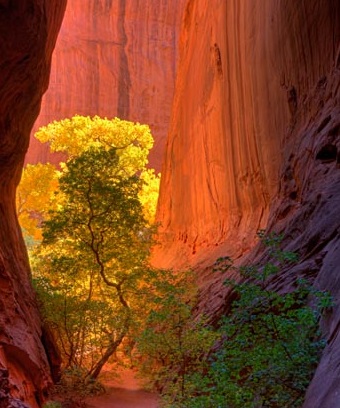 Located in south-central Utah in the heart of red rock country, Capitol Reef National Park is a hidden treasure filled with cliffs, canyons, domes and bridges in the Waterpocket Fold, a geologic monocline (a wrinkle on the earth) extending almost 100 miles. With its wide variety of microhabitats, Capitol Reef National Park's cold desert ecosystem supports an extraordinarily diverse combination of plant and animal species, fostering opportunities for education, research, and a deeper connection to the natural world.
Traveling westbound on Interstate 70: Take Utah State Highway 24 west towards Hanksville (exit 149). Stay on Highway 24 for 95 miles (153 km) to reach the visitor center.
Traveling on Interstate 15: Take US Highway 50 east at Scipio (exit 188) towards Salina for 30 miles (48.3 km). At the junction with Utah State Highway 89/259, turn right (south) and travel 8 miles (12.9 km). Turn left (east) onto Utah State Highway 24 towards Sigurd. Continue on Highway 24 for 82 miles (132 km) to reach the visitor center.
For more information, please visit their website at http://www.nps.gov/care/index.htm or call (435) 425-3791 ext. 4111