Art and Soul – May 2017
New Mexico
May 27, 2017 - May 31, 2017
Cost: $1190.00 - $1500.00
Venue:

Hummingbird Ranch


Guides: Mary Marsden, Doug Van Houten
Limit: 16
Requires
application
backpacking
Accommodations
camping
prerequisite
retreat center
Description:
…Hold to your own truth
at the center of the image
you were born with.…
~David Whyte
Image is the mother tongue of the soul. As humans, we carry images, symbols, mysteries within us that arise unbidden through the dreamtime, dance at the edges of consciousness, and arrive via encounters within human culture and nature. They are with us from the beginning. Images that are core to who we are carry energy, story, meaning, memory, emotion, and/or vision. They might, if we are willing to engage them, connect us to our hearts — to the places we most fear but nevertheless must go — and also to the heart of the world. Such images point beyond themselves toward the mysteries and destiny inherent in a human life.
The reinvention of self and world happens primarily through the powers of our imaginations. Images are at the root of our "image"inations. The special focus of Art and Soul is the awakening of these powers and the expression of our raw images —our prima materia — into visual form, allowing their inherent mysteries to do their work on us and incubate life-changing intimacy with our souls and with our world.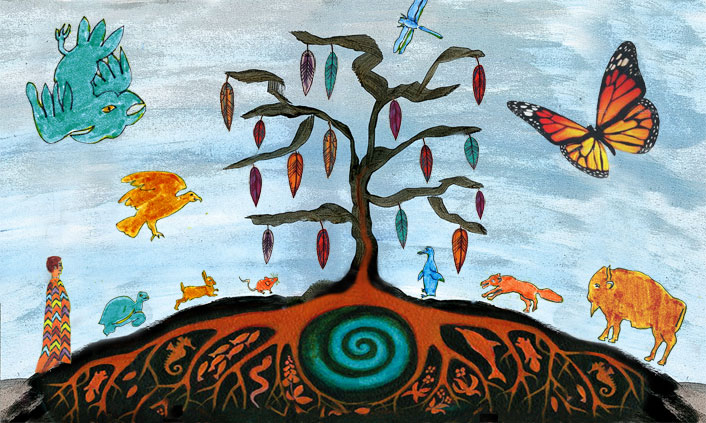 In aspen groves beneath soaring granite peaks, we'll explore our images through the entwining of expressive arts, soulcraft practices, and embodied dialogs with the land and wild others. Our processes may include: mandala and collage work, group and self-designed ceremony, symbolic art work, trance rhythm and movement, art with the land, focused wandering in nature, clay work, deep imagery, and body art. Artistic process can free us from the conceptual mind and purposeful logic, opening the doorway to nonordinary perceptual experience and the depths of psyche.
We'll approach expressive arts in the spirit of giving way to spontaneous ceremony, holding clear intentions as well as allowing moment-to-moment improvisation. Whatever happens to us in the process is potentially as revelatory and transformative as any resulting image. We'll interact with the images that emerge, leaving us vulnerable to feeling everything, to being stopped in our tracks or set into motion. We'll track, as if with new eyes, underlying patterns and storylines that point us toward the truth at the center of the image we were born with.
No previous visual arts experience is necessary. All levels of creative skill are welcome; we are less interested in the finished product than the process and our ability to free up our wild minds as we dare to give life to our images.
Lodging: Pricing is based on camping. Shared rooms are available for an additional $100.
Food: All meals are included starting with dinner the first evening and ending with lunch the last day.
Transportation: You are responsible for getting yourself to and from the program location.  Details about carpooling will be sent in the preparation letter you receive after registering.
Guides
Mary Marsden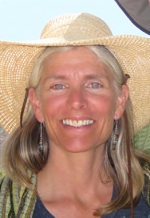 Mary is a soul-centric guide and mentor. She creatively and heart-fully invites people to be in intimate and vulnerable relationship with Nature, Soul and their own multifaceted psyches.
Mary is gifted at guiding individuals into their dream worlds, accessing the power of deep imagination, and supporting those who are ready and willing to be claimed by their unique, mystical relationship with the World. She guides with humor, genuine compassion, and a deeply intuitive knowing of the soul journey. With grace, beauty, and fierceness, Mary invites sojourners to discover their unique gifts and to bring them into world - to feed Life itself.
Mary's work is deeply informed by her love for the Colorado River Basin and its imperiled waters and spirit. She is a mother, river-runner, front yard gardener and tends a flock of hens in her backyard in Boulder, CO.
Mary incorporates her training and experience in Hakomi, somatic psychotherapy, trauma work and creative movement into her guiding. She leads Animas programs, her own locally based soul-oriented programs and mentors individuals, near and far, on their soul journeys.
Doug Van Houten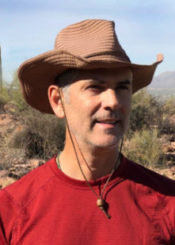 Doug Van Houten has an eye for the heartbreakingly beautiful and a wild heart that sings in the dark night of his own soul. He is beekeeper, artist, brave explorer of the "darker than darkness", student/facilitator of the Great Work, and Animas trained vision fast guide. In his own backyard of the rolling Kentucky hills, Doug organizes retreats/conferences/workshops/drumming circles, and festivals in celebration of Earth spirit. Lit by the luminescence of his own dreams, wanderings and visions, his firsthand enraptured experience is a deep exploration of his own dark wounding. Doug has taken a vow to soul, (that would kill him to break), to live consciously with grace and to stay awake. Here, he dances with shadow, hones his artistry, and answers the call to support the soulful opening of others.
Venue
Hummingbird Ranch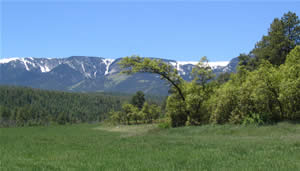 Nestled in a valley among the Aspens, Cottonwoods, and Ponderosa Pines in the Sangre de Cristo Mountains of northern New Mexico, rests a 500 acre ranch that is home to Hummingbird Community.