Becoming Earth: Discovering Soul as Ecological Niche – Colombia (Price in COP)
February 22, 2017 - February 26, 2017
Cost: $2850000.00
Venue:
Guides: Nate Bacon, M.A., Mary Marsden
Limit: 16
Requires
application
backpacking
Accommodations
camping
prerequisite
retreat center
Description:
PRICE IN COLOMBIAN PESOS (COP)



Becoming Earth: Discovering Soul as Ecological Niche
(A separate one-day intensive will be held February 18 for $450.000 COP)
Becoming Earth: Discovering Soul as Ecological Niche is a five-day intensive that will take place in Colombia produced by the local educational organization Efecto Mariposa in the cloud forests of the Andean highlands near Bogotá.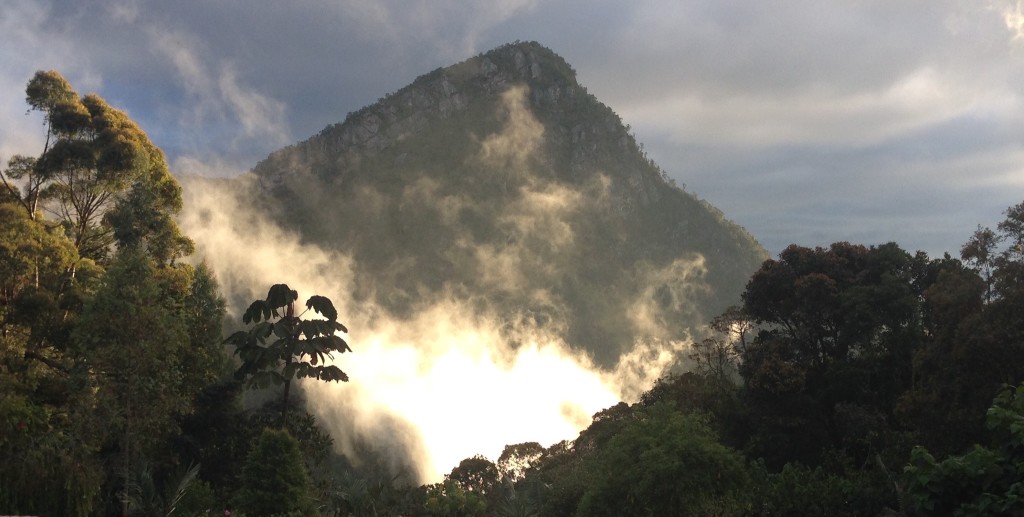 In this wondrous and mysterious place, we will immerse ourselves in the entwined landscapes of the deep human imagination and the wild, other-than-human world. We will embed ourselves in this numinous terrain and seek glimpses or intimations of our unique, individual places in the Earth community. Together we will cultivate our inherent capacities for perceiving the psycho-spiritual and ecological patterns that collaborate and conspire to draw us deeper and deeper into the territory of soul – our ultimate place within the community of life.
This intensive will take place at El Chulajuan, an astonishing private wildland and agricultural reserve an hour outside of Bogotá. In this place, the surrounding mountains trap the moisture from the hot Magdalena Valley and orchestrate entrancing dances between tree and cloud, mountain and sky, landscape and imagination. El Chulajuan is home to more than 360 animal species, including small mammals such as opossums, pacas, jackrabbits, coatis, and sloths. It is also a home for many species of uncommon high tropical birds including hummingbirds of all sizes and colors, huge turkeys, and bright green toucans. The plant, fungal, and insect life is also astounding and bewildering; in the space of 740 acres, El Chulajuan is home to more biodiversity than all of Great Britain combined. Here you will wander in relationship with fern trees, palms, beetles, butterflies, coatis, acacias, , and oaks, listening for subtle whispers or deafening cries announcing- if only you have the ears to hear- the nature of your unique and particular place in the community of life.
During our days together we will be tracking the psycho-ecological relationship patterns to which we are most drawn, including those we encounter in our deep imagination. It is precisely these patterns that constitute the deepest lives we are called to live. We will emphasize the cultivation of the psychic and perceptual tools for tracking the patterns of our lives embedded in this mysterious world, in this way enabling the journey to continue and deepen after we part ways. We will discover and explore how awareness of the others with whom we are in relationship places us in conscious relationship with ourselves and the life of our souls.
In conversation with spider and cloud, sunlight and mushroom, we will offer ourselves to the meeting place between our particular human lives and the lives of the other-than-human beings. We will dip our toes slowly at first, and dive headlong when ready, into the mystery of our human souls as ecological phenomena, our psyches as wild ecosystems, our deepest longings as the longings of the world itself.
Contact Efecto Mariposo to apply and register. Program is confirmed. Registration is still open.

Efecto Mariposa is a Colombian non-governmental organization that forges deep ethics based on respect for the wonders of life through deep ecology and a holistic sciences approach. They seek to change the paradigms of development, promoting a different way of understanding nature. They help to foster harmonic and sustainable opportunities for individuals, their communities, and their lands.
Efecto Mariposa also offers a six month certificate in Holistic Science and Economics for Transition in association with Schumacher College in England, as well as offering many different short courses that give people the tools, the space, and the experience to be able to respond to the unique challenges of our times.
To apply:
http://www.efectomariposa.space/becoming-earth/
Contact Efecto Mariposa:
corporacionefectomariposa@gmail.com
Efecto Mariposa Team: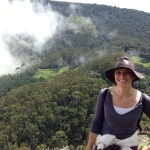 Silvia Gómez was born in Bogotá Colombia and since 2001 has been working and sharing life with indigenous communities in Latin America. She is an anthropologist with more than 10 years of experience in community work and follow up to socio-cultural processes with indigenous peoples and peasants of Colombia. She is a happy and proud holder of an MS in Holistic Sciences from Schumacher College and has worked as an advisor for Latin America for both UNESCO and the Colombian Ministry of Culture. She is currently is the head of Greenpeace Colombia and is a creator and facilitator of the Certificate in Holistic Science and Economics for Transition with Efecto Mariposa.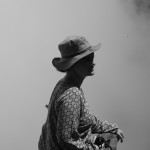 Adriana Puech is an Environmental Engineering graduate from Colombia and France where she worked in olfactory research, waste water treatment consulting and adaptation to climate change. Passionate about the interconnectedness of the challenges we face, she has a Master in Holistic Science from Schumacher College. In her journey looking for a livelihood where her essence and nature could unfurl as well as create a harmonious world, she co-founded Efecto Mariposa where she created and facilitates the Certificate in Holistic Science and Economics for Transition  and became a mother, unraveling both jobs in an intertwined way. Fond of improvisation and the depths of sound, Adriana is a life-long lover of landscapes, music and beauty, with a particular interest in the invisible dynamics that touches, connects and transforms us.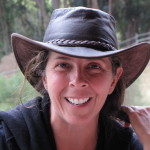 Alejandra Balcázar is also a co-founder of Efecto Mariposa. She is a journalist with a long history in mass media, a writer, publisher and a documentary maker who loves to tell stories, play with language, live and sense life. She has been learning through cultivating food for body and soul with Gaia as a teacher as well as with many great people that have surrounded her. She created and facilitates the Certificate in Holistic Science and Economics for Transition in Colombia.
Guides
Nate Bacon, M.A.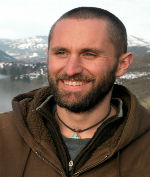 Nate Bacon lives with his family on the east flank of the North Cascades, where he delights in his great fortune of being able to raise his children on the banks of a cold mountain river. A cultural ecologist, wilderness guide, and writer, his work concerns the intertwined nature of perception, language, worldview, and identity. He is dedicated to undermining the psycho-cultural structures of our modern ways of being while remembering our inherent belonging in the world and relationship with all of life. His current writing project explores the mythopoetic relationship between evolution, human consciousness, and the ecological crises of our current moment. Nate is an avid fermenter, kitchen gardener, naturalist, wildlife tracker, and traditional bow hunter with a Master's degree in Philosophy and Religion. He serves in many roles at Animas, including as guide, trainer, and board member.
Mary Marsden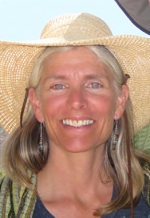 Mary is a soul-centric guide and mentor. She creatively and heart-fully invites people to be in intimate and vulnerable relationship with Nature, Soul and their own multifaceted psyches.
Mary is gifted at guiding individuals into their dream worlds, accessing the power of deep imagination, and supporting those who are ready and willing to be claimed by their unique, mystical relationship with the World. She guides with humor, genuine compassion, and a deeply intuitive knowing of the soul journey. With grace, beauty, and fierceness, Mary invites sojourners to discover their unique gifts and to bring them into world - to feed Life itself.
Mary's work is deeply informed by her love for the Colorado River Basin and its imperiled waters and spirit. She is a mother, river-runner, front yard gardener and tends a flock of hens in her backyard in Boulder, CO.
Mary incorporates her training and experience in Hakomi, somatic psychotherapy, trauma work and creative movement into her guiding. She leads Animas programs, her own locally based soul-oriented programs and mentors individuals, near and far, on their soul journeys.
Venue